Out and about with friends or family? And on the look out for a handy tool to keep track of your spending? Dividr ticks all the boxes!

About Dividr
In a Dividr group, you can easily share costs by splitting the bill equally or individually. This way you see right away who has to pay what to whom. All you then have to do is send a request for payment … and you're done! It couldn't be easier!

How to use Dividr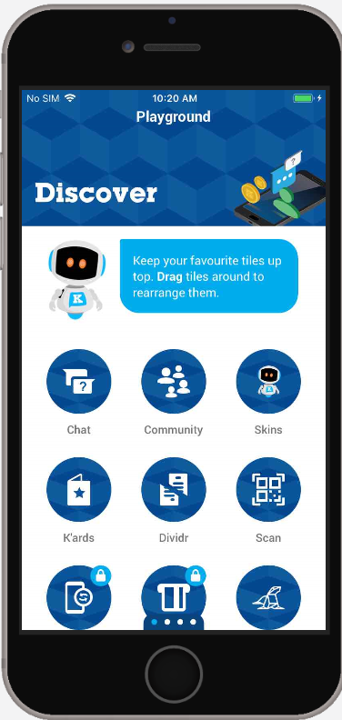 Don't waste time! Create your first group in a flash.
Here's how: 
Open K'Ching and tap the Dividr tile
Create a group using the contacts in your phone
Give your group a nickname and, if you want, select a photo for it
And now you're set to roll! After entering all the expenses, tap Calculate and see who has to pay what to whom.
Good to know: you can add up to 42 phone contacts to a Dividr group, including yourself.

What do you need to use Dividr?
You can use Dividr without the K'Ching app or a KBC Current Account, but then you won't be able to enter costs yourself or create a group.

To pay with Divdr in the K'Ching app, you need to have a current account (like the young person's account, for instance).

How to pay using Divdr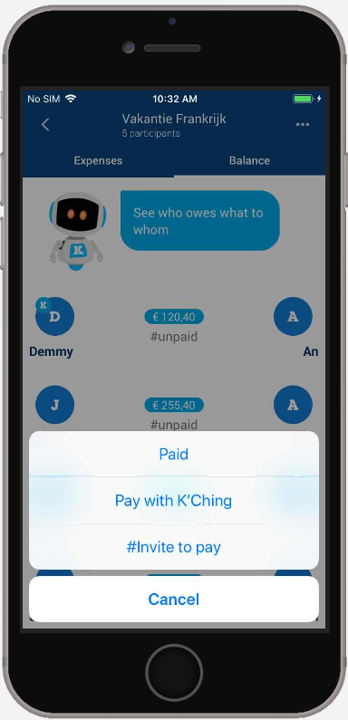 Has someone paid?

If so, you can mark their portion as paid. This gives you a clearer idea of who's already paid and who hasn't.
Linked your KBC, CBC or KBC Brussels Current Account to K'Ching?
Once linked, it's easy to pay with K'Ching.
Does the person you have to pay not have K'Ching?
Ask for their account number or send a request for payment using K'ards.